About the Author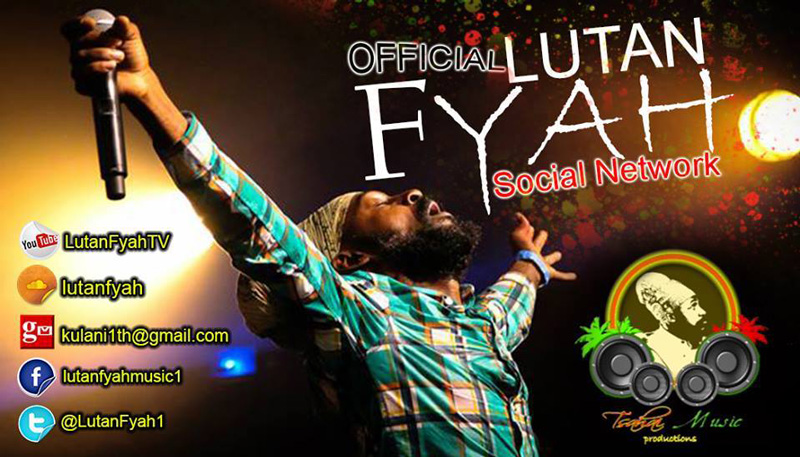 Lutan Fyah is a revolutionary spirit delivering a message of love, peace, justice, unity and community through hard hitting reggae dancehall rythmns and lyrics, on stages all over the world.

Born and raised in Spanish Town in Kingston, Jamaica Lutan's initial influence of African consciousness was instilled by his grandfather Tamba, and his spiritual identity is rooted in Rastafar-I, Bobo Ashanti.

Musically speaking, Lutan was heavily influenced by all four of his grandparents. One of his grandmothers, Ms. Esmay, was the very first to teach him actual range levels in singing, however both grandmothers were known to be powerful singers. One of Lutan's grandfathers (Tamba) owned and played one of the very first Rumba Box instruments which still remains in the family today and he also played the harmonica, of which he eventually gifted to Lutan when he was a young boy. When Lutan was a teenager, both of his grandfathers hosted weekly parties on their lawns--affectionatelly coined the Tamba Harmony Hall and the Ackee Wackee Hall--at which friends like Coxsone Dodd who lived nearby, Joe Gibbs, Bob Marley, Dennis Brown, Alton Ellis, Hortense Ellis, Stereograph, Jah Love, Wasp, Volcano and many other reggae legends would be present, enjoying music and/or playing dominoes. His grandfather Tamba also owned a sound system, the then popular Black I-niverse of which Coxsone Dodd used to share music with and in those times you might have seen Lutan playing the sound and blowing a few amps as well.

Although mesmorized by the power of music at a very young age, Lutan didn't begin agressively pursuing music until after succeeding academically and becoming one of the most talented Jamaican footballers (soccer) of his time. Lutan was a star player in organized team football in primary school in an under 12 league, the under 16 COLTS league, in the under 19 Manning Cup league, and the National Premiere League at Delvega United, Constant Spring Football Club and Hazard United.

However, while making waves in football Lutan's peers recognized his singing voice, as he was always singing, and encouraged him to record a song. In 1997, one day after football practice, Lutan and a friend headed over to Buju Banton's Gargamel recording studio. Buju's engineer "Stumpy" heard his voice and they immediately headed over King Jammy's Studio in Waterhouse, Kingston where Lutan's very first song was recorded--"Ambassador for Christ".

Lutan plays the guitar--self taught--has recorded roughly 200 singles to date, has released 12 albums, and also 10 music videos. He's collaborated with artists like: Pressure, Luciano, Jah Mason, Jahvinci, Midnite, Rebolution Band, Anthony B, Turbulence, Chronixx, Ken Ring and Lady G, just to name a few. He's worked with legendary producers like: multiple Grammy winners Sly and Robbie, 2013 Grammy nominee Richard "Breadback" Bramwell, Michigan and Smiley, Tristan Palmer, Sugar Minott, Stephen McGregor, Don Corleon, John John, Bobby Digital, Donovan Germain, Tony Kelly, Gargamel, Silly Walks, Jah Warrior, Xtermintor and more.

Lutan has ripped stages in over 30 countries over the last 10 years varying from club tours, to some of the biggest festivals across the globe in cities like: Berlin, Koln, Hamburg, Dortmond, Rens, Frankfort, Munich, Dussseldof, Stockholm, Malmo, Gotenburg, Oslo, Elsincki, Cohpenhagen, Paris, Genevei, Monpelier, Lyon, Bordeaux, Lens, Campetienne, Monaco, Lille, Marseille, Barcelona, Madrid, Valencia, Granada, Gibralta, Malaga, Betis, Milan, Rome, Lazanelli, Bologna, Nopoli, Sissli, Turin, Genoa, Geneva, Zurich, Baen, Vienna, Rototam, Amsterdam, Amstelveen, Gronigen, Utrekt, Urban, Johanesburg, Cape Town, Mombasa, Nairobi, Moscow, St.Peterburge, Crasnadad, Istanbul, Trabsn, Costa Rica, Brazil, Argentina, Colombia, Puerto Rico, Cuba, Trinidad, Suriname, French Guayana, Bahamas, Barbadoes, NYC, Miami, and Los Angeles to name a few.

Summer festival season 2014 is going to be huge for Lutan Fyah! See him blazing shows live at major international festivals like Sumol Summerfest in Portugal, SummerJam, ReggaeJam, Chiemsee and Summerfest in Germany, Sunrise Festival also in Germany, Garance Festival in France and more!
Official Lutan Fyah facebook bio