"2 The World" is the new album from Italian reggae band MELLOW MOOD, and will be released on iTunes and digital stores by independent label La Tempesta International. Ten months after their fortunate "Twinz", the Mellow Mood reveal its twin, bearing witness to the buoyant creativity of twins Jacob and L.O. Garzia and to the further stylistic evolution of the whole band.
Sturdy rhythmic structures and a band stripped to the bone (keyboards, drums and bass) allow the Mellow Mood to freely mix the constituents of reggae music. The five Italians once again deliver an album covering the full extension of Jamaican music, wisely blending roots songwriting with dancehall elements, and experimenting with digital sounds unused to the band. "2 The World" is a twofold declaration of intent. On one hand, the band wants to underline an increased opening to the international reggae scene, testified by several and precious Jamaican collaborations (Tanya Stephens, Hempress Sativa, Jah9, Gideon & Selah); on the other hand the title underlines how the Italian scene (artists and fans together) is proving to be ready to be among the main players of the rebirth of reggae music worldwide.
The Mellow Mood's teamwork is also gaining increased international recognition. Paolo Baldini is once again the man at the controls, fortified by the collaboration with Mellow Mood on his own project Dub Files, which made him one of the most influent reggae producers of the Old Continent. Forelock and Andrew I, who also teamed up in Baldini's project, are the only Italian guests of the album, though their style is more Jamaican than ever. "2 The World" is a grown-up album, the fourth tile in the discography of a band which has now come a long way, and has a bright future ahead.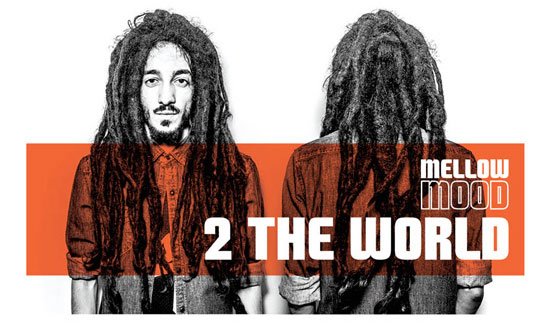 TRACKS
01 - Intro
02 - Inna Jamaica pt.2 feat. Hempress Sativa & Forelock
03 - Criminal feat. Andrew I
04 - Extra Love feat. Tanya Stephens
05 - Write To You
06 - Weh You Trend
07 - Sufferation
08 - Bun Mi Heart
09 - Innocent
10 - Even Over
11 - Everything She Want
12 - Wipe Away feat. Jah9
13 - Twinz Invation feat. Gideon & Selah
14 - Love Mama