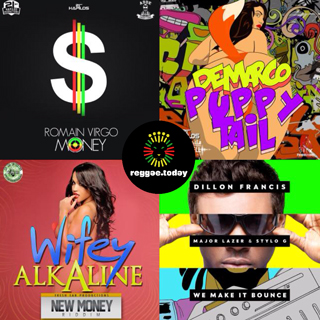 Dancehall Singles Vol.8
Dancehall Singles Vol.8 - Various Artists
Genre: Dancehall
Dancehall Single Vol.8 is the new playlist from Reggae.Today with the latest bashment hits. This new collection opens with a soft tune, the new single from the incredible Romain Virgo; the beat then speeds up with Vybz Kartel and his Credit Alone Done on the New Money Riddim.  The playlist continues with the last hits from Demarco, Alkaline, Major Lazer & Stylo G with We make It Bounce e many more. Turn up the volume and enjoy our new selection!!!
The Making Of 'PUPPY TAIL' With Demarco x Renee 6:30 x DHQ Nickeisha
Dancehall Singles Vol.8 è la nuova playlist di Reggae.Today con tutte le ultime bashment hits. Questa nuova rassegna di tunes si apre con un brano decisamente soft:  il nuovo singolo del incredibile Romain Virgo. Il beat accellera con Vybz Kartel e la sua Credit Alone Done sul New Money Riddim. A seguire, tante altre hits come quella di di Demarco, di Alkaline e la nuovissima We Make It Bounce che vede Major Lazer  in combo con Stylo G. Alzate il volume e godetevi la nostra nuova selection!
Tracklist
01. Romain Virgo - Money Target
02. Vybz Kartel - Credit Alone Done
03. Demarco - Puppy Tail
04. Alkaline - Wifey
05. Dillon FRancis, Major Lazer, Stylo G - We Make It Bounce
06. I-Octane, Bryka - Money
07. Bugle - Real Soldier (I Want Jah)
08. Gramma Zone - Call in Sick
09. Vybz Kartel - Ca Test We
10. RDX - Hell
11. Agent Sasco - Ruff Life
12. Benny Page, Assassin - Champion Sound
13. Laden - Money Nuff
14. Vershon - Twist
15. Voicemail, Konshens - Shampoo Remix
16. Vybz Kartel - A-Bay
17. RDX - Dancehall
18. Vybz Kartel - 6 Missed Calls
19. Bramma - Change
20. RDX - Wurla Glue
21. Popcaan - Unruly Party